About our ATV/UTV safety training courses…
ATV / UTV: Join our Canada Safety Council certified instructors in a hands-on, informative, and fun All Terrain and Utility Terrain Vehicle course designed to provide you with the confidence to tackle the back country. Our instructors have years Off-Road Vehicle operation, experience, and skills which are passed on to our students in a fun, efficient, and effective manner.
Snowtracked ATV / UTV: BackCountry Safety Training's provides our unique Snowtracted ATV/UTV course which incorporates elements of the snowmobile safe operator program into the Canada Safety Council's safe operator ATV/UTV course. By melding these programs together we believe we provide the most comprehensive snowtracted ATV/UTV education available anywhere.
Our business is mobile, meaning we come to you. The benefit is training specific to your terrain and work place needs. Snowtracked Machine, riding powder?…. no problem we show you how to get it done, towing/carrying heavy loads?… no problem, we show you several towing/strapping techniques to keep you and your cargo safe. Even if you do not take our AST1 course, we will show you how to recognize avalanche paths and show you how to traverse them as safely as possible.
The All Terrain Vehicle Rider Course is a one-day program designed to train the operator in the safe and efficient use of an all terrain vehicle. The course includes both classroom and practical training, with the greatest emphasis on operational skills.
As an added bonus: ATV/UTV training also acts as a team building exercise. It is an unforced and fun way for co-workers to socialize, improving communication and co-operative skills.
Most Popular
Industrial ATV/UTV Safe Operator
ATV/UTV not included
Hands-on training
Most Popular
Industrial ATV/UTV Safe Operator
ATV/UTV included
Hands-on training
Most Popular
Snowtracked ATV/UTV Safe Operator
ATV/UTV not included
Certification or Recertification
Hands-on training
Sign our Safe ATV/UTV Operator Waiver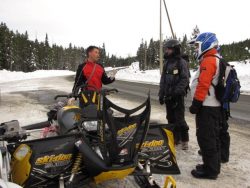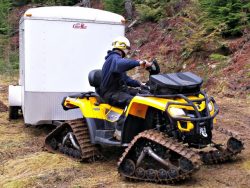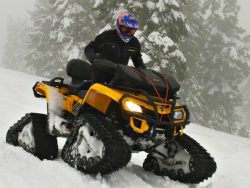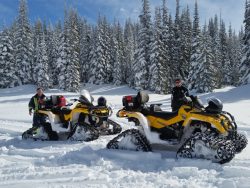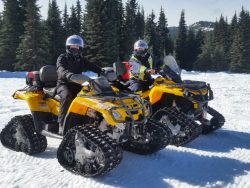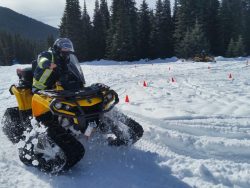 Benefits…
Reduce your workplaces motorized back country risk situations
Increase participants skills, knowledge, safety and confidence
Decrease your snow equipment maintenance issues
Comply with WorkSafe BC part 16 Competency of Operator/Mobile equipment
Participant's ATVs, must be mechanically sound, and include an owners manual.
Participants are required to wear appropriate riding gear. Helmet, eye protection, gloves, boots, pants, long sleeve shirts, jackets.
BackCountry Snowmobile's mobile service allows us to offer flexible Locations and Training Dates to meet your needs. Please contact us to set up training in a location and on a date that best meets the requirements of your workplace and employees.